Back on track, literally. That's what went down this past week.
As I gradually increase my mileage (you know, for that little marathon happening in June), it was time to better utilize my training days. I do most of my long runs on Saturdays, with a short shakeout run (usually only 1-2 miles) on Sundays. I always do a #nevermissaMonday run, so I decided to up the distance on those (which, consequently, are also short runs, 1-3 miles, at an easy pace). My Tuesdays and Wednesdays have been pretty mild (other than a miscellaneous stair workout and/or some strength-training). It didn't make sense to essentially have 3-4 "mild" days all in a row with the impending mileage increase....so I decided to enhance the #nevermissaMonday with a #5at5 nuance. These runs are also at an easy pace, and coming off of the weekend, are a great segway to the new week. Stay tuned...this is still a work in progress.
Monday.
Ironically, the weather was a bit wacko. It had been warm all day, and when I headed out to start my five miles, there was ample sunshine and temps in the mid-60's. Shortly after the first mile, though, the sun disappeared and the wind picked up. By the time I made it back home, the temps felt like they had plummeted 20-degrees and I was shivering....it was weird returning from a 5-mile run actually colder than when I left the house.
#brrrr
I swear there was sunshine when I left the house....
Tuesday
. No running, but there was some strength work and the daily April challenge exercises. Oh, and it was National Pet Day.
Celebrating national Pet Day with Max
Wednesday
. A necessary evil (in my opinion) to marathon training is speed work. Let me state (loudly and clearly) that I have no grandiose finish time goals for Grandma's Marathon other than to hopefully run it faster than I did in 2015. I'm not interested in snagging a BQ nor setting a new PR, but I do want to run the race efficiently. That said, I do plan to factor in some speed work in my training, but I'm not gonna injure myself in doing so. My strategy? Do speed work every-other week (at least that's my current plan).
Back at the track....
There's a local runner friend who has extensive experience in all things running, and each week she posts a speed workout on our local running group's Facebook page. Her recommended workout was 12x200 (with 200 recovery between each speed segment). I had the afternoon free from work, so off to the college track I went. I did a 1.25 mile warm-up run....and as I entered the track area, I noticed a coach working with a couple of students on the front part of the track (running back and forth with pole-vault poles). In an attempt to stay out of their way, I ran my 200's on the back of the track, and ran them "track proper" but turned around for the recovery run back. Problem solved. I probably looked like an amateur running back and forth (as if running sprints didn't already make me look ridiculous). I decided to run 8 sets instead of 12 since it was my first speed session in almost six months. My splits were :54/:55/:56/:53/:53/:53/:55/:53 Not bad!
Thursday.
Another
#5at5
with Barb (my main running partner-in-crime). My body was feeling pretty tired from the previous day's speed work, but we still managed a pretty solid 9:30 pace.
Ahhhhh, back in shorts!
Friday
. Pretty much a day of rest and recovery, but I did manage some strength work. If you happen to follow me on Instagram (
HERE
) or Pinterest (
HERE
), you have probably figured out I'm all about Cheetah print. My #fashionFriday showcased some of my favorite things, cheetah print, distressed skinny jeans, and pointy-toed sandals.
Saturday.
There was a group run scheduled in my town! This was a first-time attempt to rally some local runners, and I wanted to be a part of it. The group wasn't meeting until 8:00, and all of my weather stalking indicated there would be possible rain (and storms) happening around 9:00. Barb and I decided to meet early, knock out a few miles, and then join the group. I wanted to get 10-12 miles done, and wanted to ensure the rain wouldn't dampen my day (pun intended).
I thought it was Barb clipping along fast, but she denied blame (LOL) and said she was trying to keep up with me....whatever the case, we ran three miles faster than either of us had anticipated. I tried to "resume" the run stats on my watch, but accidentally saved it instead. Oops. And, any predictions of possible rain were incorrect; instead the sun emerged and we had a beautiful morning, albeit crazy windy.
Granted, I may have still been a bit sore from Wednesdays' speed work, and that fast 3-mile warm-up didn't help, but once we got moving with the group, I boarded the struggle bus with a round-trip ticket to Ugh. We (the group) were trying to maintain a 9:30-10:00 pace, normally not a big deal, but my body just wasn't doing it without attitude. It felt like I was going so slow, and it felt like a constant struggle the entire way. The route was hilly, which only added to my crankiness, and the wind was NOT giving me (or any of us) a break. This run was very reminiscent of my Route 66 experience (minus the cranky hip/groin). None the less, we finished with almost 12 cumulative miles for the morning. And get this.... my watch showed an average pace of 9:42 for those first 3.24 miles, and 9:59 for the remaining 8.5 miles with the group. Holy What!?! No wonder I was walking like a drunken sailor (minus the prerequisite beverages) afterwards.
Dang! Those 12 miles were "mental-strength-building" training at its best
Sunday.
As typical, I did a short and easy 1-mile shakeout run...and was pleasantly surprised to feel completely recovered! I had done a bunch of foam rolling, but my hamstrings were still achy when I went to bed Saturday evening...apparently, I'm doing something right. It felt great to wake up (following a tough run) and feel completely brand new.
If I can't be an Easter egg, at least I can dress like one (or draw a pic of one in my driveway)
Overall, I am pleased with how the week played out. My mileage (Monday - Sunday) came in at 26 miles...a bit of a jump from the previous week, but the weekly increases will be more conservative in the weeks coming. I added another half marathon to my spring schedule (which will fit in nicely with my long run schedule), but will also require a few tweaks to my 26.2 plan. Always changing, always evolving, never stagnant...right?
In other news:
It finally feels like spring is here to stay! The grass is a brilliant shade of green, and my bulbs are blooming everywhere!
This is my 8th year working on the prom committee for our high school. I'm in charge of the Presentation of Couples, so I have a stage to decorate and numerous details to oversee. The theme this year is Unmask the Night...a masquerade ball of sorts. Here's a sneak preview....
And, last of all, we all know there's a little race happening in Boston on Monday. Are you as excited as I am to stalk some of the runners?
In case you missed them, here's the blog posts from last week: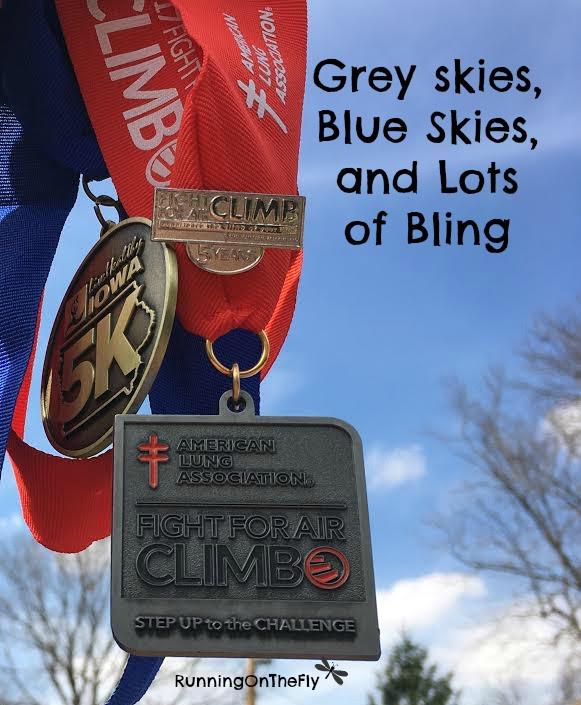 Grey skies, Blue skies, and Lots of Bling
Fight for Air Climb 2017
Am I blue?
How was your week? Any big races you're training for? Has spring officially set up residence in your town?